Visec License Plate Module

Sophisticated research and development has produced the world's first IP based License Plate Recognition System. Our team of engineers was able to devise a series of complex algorithms, mapped using sophisticated super computer like simulations to create the fastest license plate recognition system in the world.

Visec License Plate Recognition Technology

Constructed using Advanced Mathematical Modeling




Employs complex Algorithms




Mapped and tested using Supercomputer Technology




Simulated via a Multiple Redundant High Speed Switching Fabric Array




Developed using logic derived from Chaos Theory and Fibonacci Sequencing laws



Visec's LPR module works perfectly with all Visec supported IP cameras such as Axis, Arecont, IQ, Vivotek, ACTI, Pixord, Bosch, and all major ONVIF Compliant manufacturers, including generic support.

Visec's LPR works worldwide supporting license plate recognition from over 80% of the countries in the world.




All LPR functions can be fully automated and integrated with 3rd party applications, such as remote databases, access control I/O's or simple on board processing.




Megapixel cameras can also be used to perform multi Lane LPR, saving deployment time and cost.




LPR detected plates are stored on Visec's main system while allowing a full comparison of remote license plates, local license plates, or exporting plates for 3rd party processing.




Visec LPR is used in many typical Applications:

Hotels - Hospitals - Airports - Valet Parking - Shopping Centers - Universities - Entertainment Centers -Toll Booths - Casinos - Repo Companies - Police

Law Enforcement

- Inside police cars for auto detections of plates

Check Points

- A network of check points provide true random monitoring of stolen or wanted vehicles.

Traffic, Surveillance and Monitoring

-Allows Traffic management from statistics, linear regression of pattern type surveillance to marketing data for new budgeting.

cess Control

- Utilizing I/O control LPR can trigger based on events a sequence of events. For example a stolen car, can automatically trigger an alarm and close a gate.
Parking Services-
Car enters --> License plate recorded ----> Gate opens --->Ticket prints
Full video surveillance of cars entering and exiting, GPS location logged
Integrate with Lift Arm Gates - Ticket Dispensers - Barcode Systems -Pay stations - RFID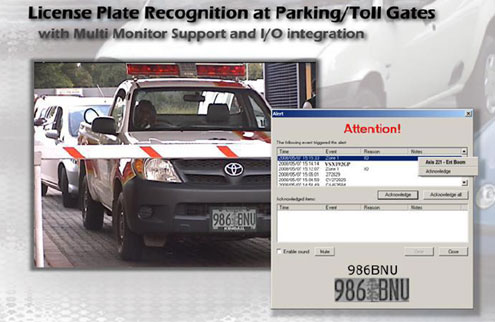 Visec Mobile LPR Solutions
Visec also makes a self contained Mobile LPR WITH EMBEDDED GPS tracking
SUMMARY OF VISEC LPR
Fastest consumer driven LPR in the world
Benchmarked using atomic clock instrumentation
Capable of reading license plates at close to 99.9% accuracy
Clocked speeds of over 100 kilometers per hour.
Supports license plates in the USA, Africa, Asia, Europe and Central/South America
Plates are converted into Alpha numeric text deciphered entries using sophisticated algorithms.
Fully Integratable to 3rd party applications- Ability to export to an ASCII Text file, or post to 3rd party server. Software development Kit or custom integration available.
Guaranteed Easy to Use- Learn Visec LPR in 30 minutes or less!

LPR Specification Sheet