Visec announces embedded License Plate Recognition using Hikvision Camera eliminating traditional hardware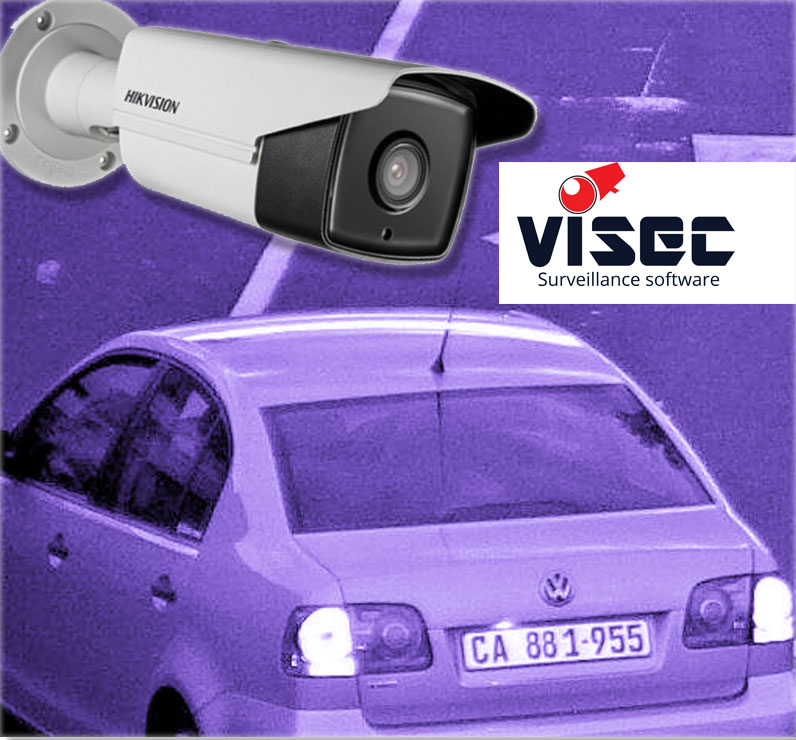 Cape Town, South Africa, January 9, 2017 Visec® (www.visec.com), creator of the Visec surveillance software suite and the License Plate Recognition Cloud Network in South Africa (LPR CLOUD SA) announces that it has released software technology making License Plate Recognition to the cloud more affordable. The Visec solution eliminates costly computer hardware associated with implementing license plate recognition systems.
The result will provide a standalone alone license plate recognition solution engineered for easy capturing, analysis and recording of license plates all built into the camera and automatically sent to the LPR CLOUD SA. No PC or server is required, just a regular internet connection.
Visec has strategically collaborated with Hikvision, an IP camera manufacturer, who will engineer the camera that will be powered by Visec's software LPR CLOUD SA technology.
"This lower cost architecture offers the potential to significantly extend coverage of the LPR CLOUD SA to reach an even wider geographic location. Such a significant cost savings will also enable a rapid global market expansion of the Visec Cloud LPR that was not possible before," says Alexander Bordbar, CTO of Visec.
The Visec standalone LPR Camera is powered using ''Edge" technology which allows software developers to write cameras apps, in a similar fashion to a cell phone running an app. The Visec license plate recognition app will run standalone utilizing the camera's processor, memory and a supporting Hikvision camera.
"We have the ability to identify specific areas of growth in viable niche markets while ensuring our clients have the most advanced solutions," says Jason K. Bordbar, MBA, Senior VP of Sales and Marketing, Visec USA Division. "Now we are able to offer a total cost ownership for the Visec Cloud LPR at a 75% price reduction for typical deployments thanks to this new camera technology. Such a drop in price point will enable Visec to implement Cloud based LPR solutions more effectively across emerging markets."
The Visec embedded LPR camera is available for immediate purchase at www.visec.com


About the Visec LPR Cloud South Africa
Visec created the first LPR CLOUD South Africa (LPRCLOUDSA) that currently has hundreds of millions of recurring instances of license plates within South Africa. Current approved users of this LRP CLOUD include numerous South African Police Service (SAPS) members, Directorate for Priority Crime Investigation (Hawks), National Prosecuting Authority (NPA), South African National Parks (SAN Parks), City Councils, Metro Police, Law Enforcement, Approved Neighborhood Watch Operations Managers, Border Control, Cash-in-Transit and Car Rental Risk Investigators. The LPRCLOUDSA is created, funded and owned by Visec, and the Vehicle of Interest (VOI) database is heavily used by SAPS's LPR Data Custodians. Visec made this powerful technology for the well being and safety of all South Africans. To accomplish this task, Visec invested years of work, millions of Rands, and countless consultation from security professionals, and police officers. The result is a state of the art (and only) African LPR cloud. Visec continues to maintain the LPR Cloud with an expert technical team and sophisticated technology infrastructure.
About Visec®
Visec® is a leading developer of IP video surveillance software, access control technology, license plate recognition systems, quick response code enabled video analytic processing and cloud based surveillance solutions. Visec employs a team of cutting edge software developers with a specialty in developing advanced mathematical algorithms for IP video application. It prides itself in producing complex solutions designed with the utmost software engineering standards known today. Visec abides by a doctrine that embraces Corporate Social Responsible Methodologies as part of its overall growth strategies. Visec has its principal offices in South Africa and the United States, with representation and clientele in all major countries around the world. For more information about Visec, please visit our website at www.visec.com


About HIKVISION
Hikvision is the world's leading supplier of video surveillance products and solutions. Featuring the industry's strongest R&D workforce, Hikvision uses its state-of- the-art manufacturing facilities to design and develop innovative CCTV and video surveillance products. The company's complete product suite includes Smart IP cameras, HD analog cameras, speed domes, NVRs, DVRs, video management software, access control and alarm systems, encoders, decoders, and other elements of sophisticated security systems and CCTV technology for any security need. Hikvision products serve a diverse set of vertical markets that includes retail, banking and finance, transportation, education, commercial, government, and residential applications. For more information, please visit Hikvision website at www.hikvision.com.