Streaming on Demand Module
What is Streaming on Demand Module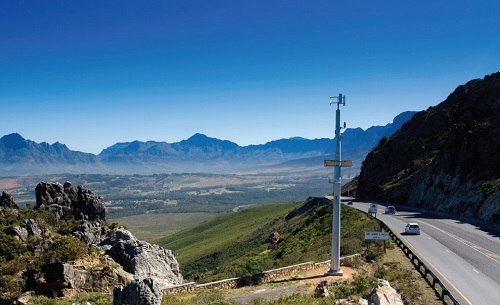 Visec® Streaming on Demand (VSD) for Axis Cameras solves Low Bandwidth Problem for IP Video Surveillance
Visec® International (www.visecpro.com) announces that it is the first company in the world to develop a low cost solution for deploying IP Video surveillance in rural and suburban areas with extremely limited Internet and bandwidth. The solution, Visec® Streaming on DemandTM (VSD), is a newly released component in the Visec® IP camera software that was engineered to work exclusively with Axis® Brand Cameras.

Field testing proved successful with Visec® International being the only company in the world able to deliver a solution for the South African National Roads Agency, via a project led by ASTII Consortium Consultant Peter Bullock at Caddic Security Systems & Integration (CSSS&I) (www.css-i.co.za).

"Many of our clients, such as the South African National Roads Agency require constant monitoring of their Axis® IP cameras in remote sites. However, because there are no dedicated bandwidth mediums available, the only solution is to utilize a 3G or 4G network. Such wireless solutions have monthly bandwidth costs approaching tens of thousands of dollars, rendering deployments for constant streaming unfeasible, says Alexander Bordbar, CTO of Visec® International. Visec® Streaming on Demand provides a major breakthrough for IP video surveillance that was not previously possible. Our technology now allows IP cameras to be deployed just about anywhere and we are our saving our clients hundreds of thousands of dollars in bandwidth costs. As an innovative provider in cutting edge video surveillance software, we are excited to have initially developed our software component specifically for Axis® cameras, the leader in IP camera production."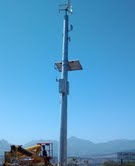 Stand Alone CCTV Pole with Axis P1343, Pelco Esprit
with Q7401 Axis Encoder ,Solar Panels and Wind Turbine
The Visec® Streaming on DemandTM module allows the viewing of MJPEG images refreshed at specified intervals. However, when an incident or activity is detected, the operator can then switch to a live view mode for a specified period of time. The reduced image rate provides a solution of consistent monitoring with the ability to rapidly change to a live stream when required. Additionally, with Visec Streaming on DemandTM, IP cameras can record directly on the internal SD card and video surveillance footage can likewise be remotely accessed directly from the internal SD card in real time, eliminating the bandwidth for offsite storage.

"Internal feasibility studies and white papers all identified bandwidth restrictions and infrastructure costs as the biggest limiting factor for implementing IP Video Security in rural and developing areas, says Jason Bordbar, MBA, Senior VP of Sales & Marketing for Visec International, USA Division. The Visec Streaming on Demand solution represents a new shift away from the standard paradigm of accessing video surveillance. The implications for such a compelling platform will allow Visec International to achieve extraordinary growth in viable niche markets and ultimately lead to a sustained competitive advantage across respective industry segments."

The Visec Streaming on Demand component is available for immediate application and supports H264 video stream formats.

About Visec® International
Visec® is a leading developer of IP video surveillance software, access control technology and license plate recognition systems. Visec employs a team of cutting edge software developers with a specialty in developing advanced mathematical algorithms for IP video application. It prides itself in its cutting edge solutions designed with the utmost software engineering standards known today. Visec abides by a doctrine that embraces Corporate Social Responsible Methodologies as part of its overall growth strategies. Visec has its principal offices in South Africa and the United States, with representation and clientele in all major countries around the world. For more information about Visec, please visit our website at www.visecpro.com

About Axis Communications
Axis is an IT company offering network video solutions for professional installations. The company is the global market leader in network video, driving the ongoing shift from analog to digital video surveillance. Axis products and solutions focus on security surveillance and remote monitoring, and are based on innovative, open technology platforms. Axis is a Swedish-based company, operating worldwide with offices in more than 20 countries and cooperating with partners in more than 70 countries. Founded in 1984, Axis is listed on the NASDAQ OMX Stockholm, under the ticker AXIS. For more information about Axis, please visit our website at www.axis.com.
Visec® Streaming on Demand Explained
The SOLUTION for IP Video Surveillance Monitoring using LOW BANDWIDTH
The traditional way of video surveillance monitoring is using a LAN or WAN using a fibre optic, coaxial or wireless solution to stream live video to a centralized monitoring control room.
This model works well where dedicated throughput (100mbps, 1gig or 10 gig) is available with no or very little additional costs for data usage.
Many clients want to monitor remote sites but there are no dedicated bandwidth mediums available. Mediums like 3G or 4G was used but the results were poor picture quality and frustrated clients due to the high monthly costs for data usage.
Challenges of EXISTING Monitoring Solutions using LOW BANDWIDTH
IP Surveillance System requires Live Video Stream
MJPEG Images received via alarm/event only
Requires High Bandwidth Throughput
High Data Usage
ADVANTAGES of Streaming on Demand Module
Utilize limited BANDWIDTH more effectively
Utilize limited DATA more effectively
Receive IMAGES at various INTERVALS instead of Live Video Stream
Stream LIVE video on DEMAND

SINGLE Playback interface for MJPEG Images and Stored Video
Auto TIMEOUT on Live Video Stream